The Birth of a Dream
Mar 30, 2023
Over the last 7 months, I have been birthing a dream. It's a new business venture in the space of holistic healing and wellness. The HEAL Institute. www.thehealinstitute.com
It's been a long journey that took me across 3 continents and had me visit the deepest parts of myself. It's not been an easy journey but it's been a powerful one. A journey of discovery, growth, silence and prayer. Also, a journey of connection, of beauty and inspiration.
Here's the story of this journey as reflected in these 13 journal entries.
Guatemala, Lake Atitlan December 2022
I've been on quite a journey over the last 7 months. My body travelled through Spain, Mexico, Guatemala, England, Maldives, India and Italy. My soul sourced new energy from power places, ancient wisdom and deep soul connections. My mind kept busy waving a new dream, a new idea that I have been incubating and getting ready to bring into the world. It's coming soon, I can feel it.
Today is about being a traveller. I learned that in Africa many years ago. When I travel, I am fully there. With my body with my soul, immersed in the reality of the place. I find it hard to post updates on social media because there is no social media. There is nothing to report. The reality around me is all there is. And I let myself fully sink into it.
The time to share is now and we start this story here: Guatemala, Lake Atitlan December 2022
At this time my new idea was fully formed and it was here that it jumped out of my mind and stepped into the world: I signed my first contract.
Read more to find out how I came here and where I went from here.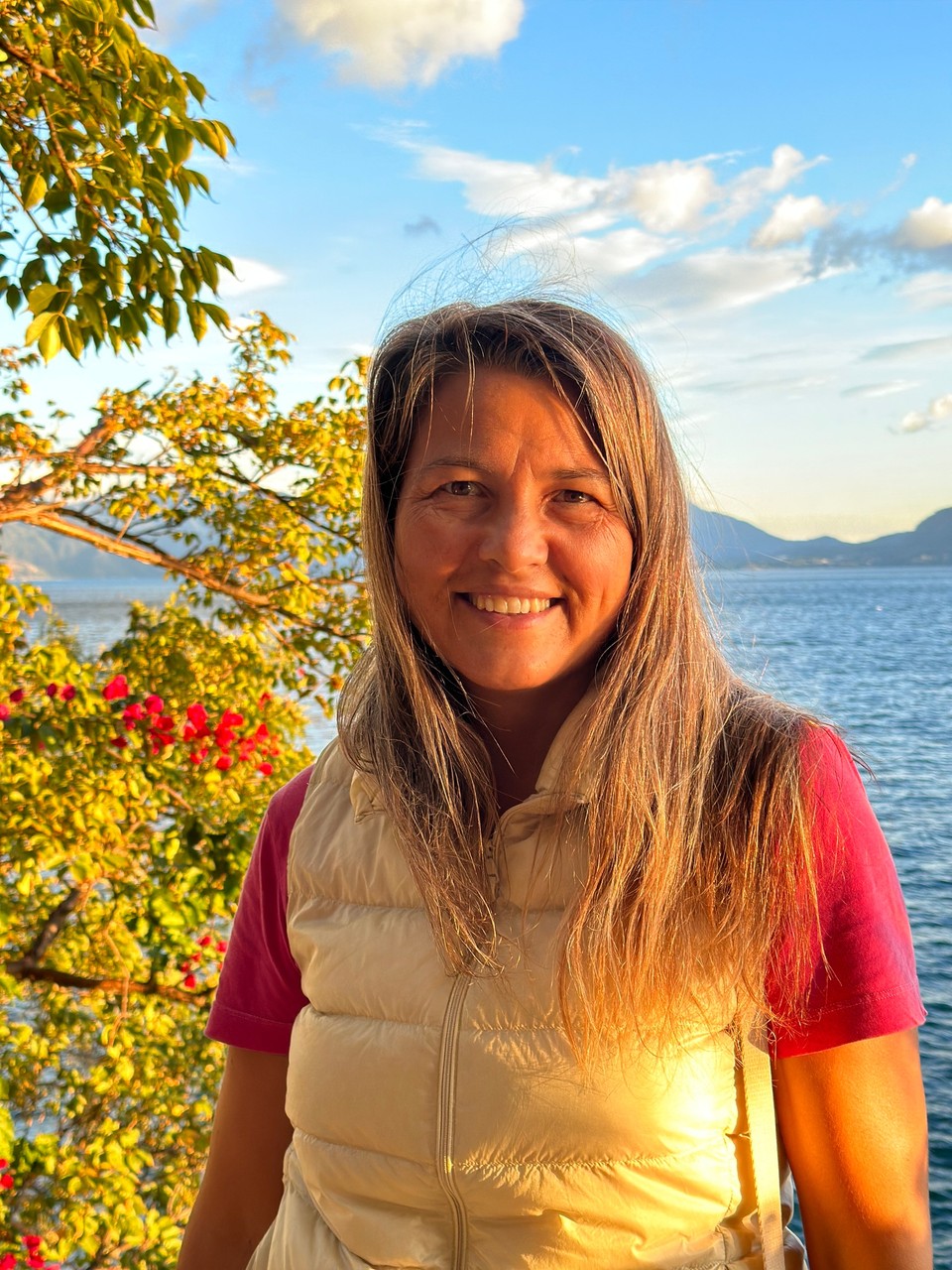 August 2022 - Mallorca, Spain
New journeys always start with a magic moment. This one started here.
30 August 2022. We got married again. We do it every year in a private ceremony, only the two of us. We do it using an ancient Celtic tradition: hand-fasting. It works like this: we bind our hands together as a symbol of our decision to unify our lives. We promise our love and support to each other. We chose each other as soulmates, lovers, and best friends.
In the hand-fasting tradition, this commitment historically lasted for 1 year and 1 day. After that, both people were free to go their separate ways. Because love cannot be caged and cannot be taken for granted. True love can only be freely given. And so, we chose to make this commitment every year on the anniversary of our first commitment 6 years ago. And every time it feels as fresh as the first time.
On 30 August 2022, we woke up early. We dressed up. We met outside under our sacred tree. We promised each other our hearts. For a year and a day. We laughed, we cried. We jumped over a broomstick to mark a new beginning.
And then we took a picture.
Because when you take the time to honour the sacred, the sacred supports you.
My new journey had already started. The idea was still bubbling inside and even though I had tried to pretend I was busy with other things, it was whispering its way into being. Only that I did not know it then.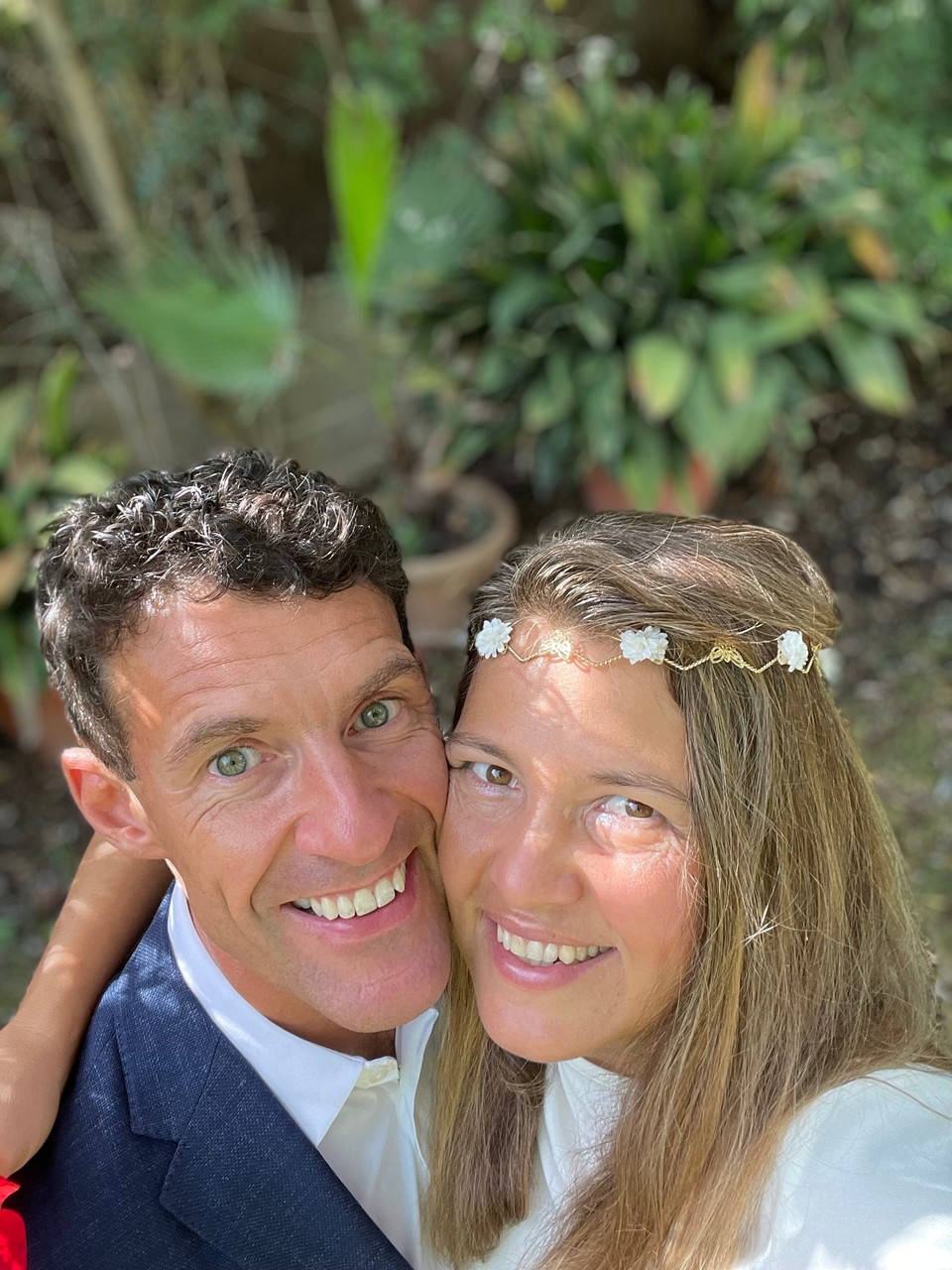 September 2022 - Mallorca, Spain
Today is about signs. Follow them and you will find the pot of gold at the end of the rainbow.
As I was holding on to my idea and not doing much with it, the signs came one after the other. Some, I passed by, oblivious. Some others I ignored. Some I wondered about but did not know what they meant. Until this one came, one that I could no longer ignore. A rainbow. It came first as I was leaving my house one morning. Then it came again, on the beach.
And then one day it came as I was working at my desk, my computer open and me sorting through older files. A business plan. The idea. And then I looked up and there it was. The most beautiful and clear rainbow I have ever seen.
Every time it came, it spoke to me of dreams. Of bringing them into reality.
It also reminded me of Tulum on the Mayan coast of Mexico, the land of rainbows.
And so I decided to follow it, all the way back to Tulum.
Because everything starts with a decision and mine was to book that ticket.
It was September 2022. My journey had started.
November 2022 - Tulum, Mexico
Today is about daring to ask for what you truly want. My latest birthday found me on the beach in Tulum. I was turning 48. That's quite a lot of birthdays.
And on all those previous birthdays I had a secret wish. I was dreaming of a big white fruity birthday cake.
Some years I hoped someone would secretly know about my dream and produce the miracle cake. In other years, I even tried to tentatively hint at what I might like. And other times I pretended I needed no cake. Once, I even received a double cake, two cakes baked by my darling friends in Argentina, Rosario and Gabriela who both wanted to bake me a cake. And in my polo-crazed past, I even had an amazing cake with the head of a horse on it, made from sugar of course.
These were wonderful memories and wonderful cakes. But they were not the cake I was secretly wishing for and told no one about. Until this birthday when I dared to tell Michael what I wanted. It had to be a full round white birthday cake with lots of fruit inside. It had to be ready for sunrise. I had no idea if or how this was even possible as we had planned to arrive in Mexico the night before my birthday and wake up in a small hut on the beach.
And yet, he made it possible. Because I had asked him to do it. And because he loves me.
As I held my dream birthday cake with gratitude, at sunrise, on the beach my soul calls home, I fully got the meaning of "ask and you shall receive". I had asked. And I received it.
And then, later the same day, I asked the Universe for something else. And the Universe made it possible.
And so, the next morning, I went online and registered a domain name that - through a miracle - was still available.
My birthday, 7 November 2022. My idea got a home on the internet.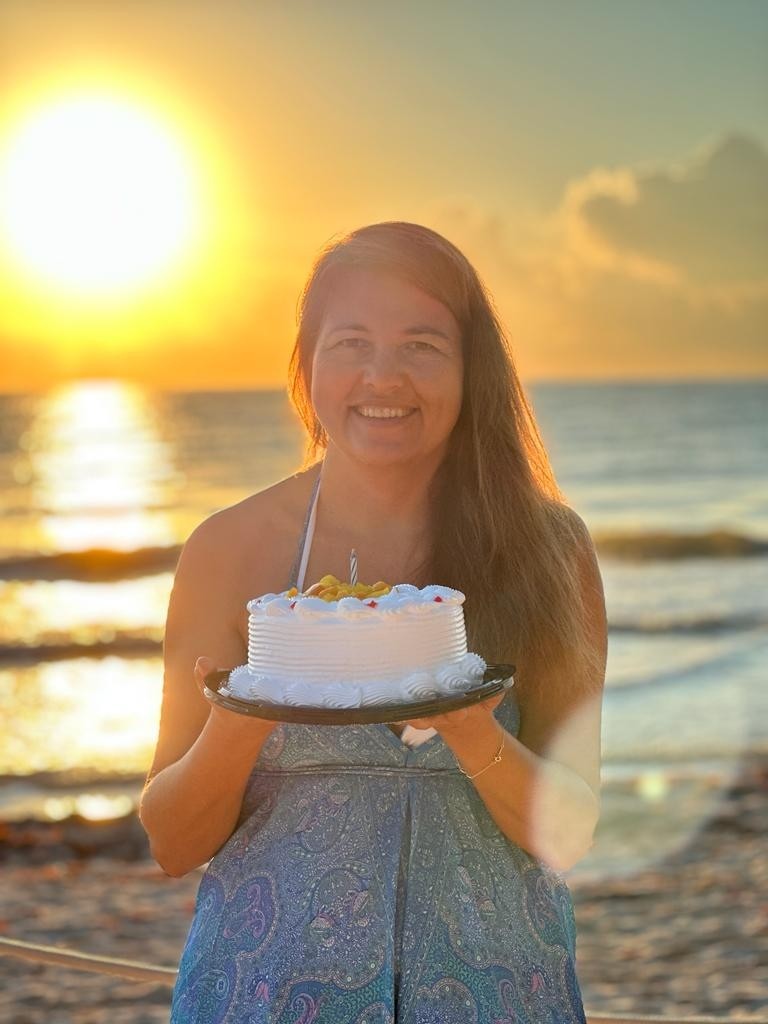 November 2022 - On the road Mexico and Guatemala
Today is about working.
I often get asked how come we don't get bored when we travel. Well, we work, is the short answer.
I work just as much - if not more - than if I were in an office in London. Sometimes I write, other times I create courses. I do holistic healing work. I launch new businesses. Our startup in the space of health tech compliance - Acorn Compliance - was born last year in Tulum. It is now one year old and thriving.
We both work in the strangest of circumstances. In the airports. On the flights. On the beach. Michael works in taxis too - for me, this is where I draw the line because I get sick to work in a moving car. We work in Airbnbs that we rent and in hotel rooms. I love to work outside, next to the water. In Mallorca, I wrote a whole book from a beach bar overlooking the sea. In Tulum, I love to find a tranquil spot on that huge beach. Michael juggles clients' calls at the oddest of hours. And when the wifi drops we both pray for a miracle.
And we are not alone. In this new world, we met many who are doing exactly what we are doing: not letting work condition our life.
Because it's work that needs to fit life choices, not the other way around.
And this is how my idea took shape, grew and transformed. On the road.
November 2022 - Tulum, Mexico
Today is about dreaming. More specifically, about dreaming in Tulum.
Tulum is a dusty, hot, chaotic and powerful place. I know it well by now, we have been here 5 times in the last 3 years. The signs you meet here are not subtle. They are loud, clear and in your face. And they are everywhere. Tulum will give you what you ask for. If you came here looking for drugs and parties, it will answer your wishes. If you want inspiration, it will give it to you. And plenty. And if you came here looking for energy to do things it will kick you in the butt and force you to do exactly that.
After my ask-and-receive moment on my birthday, things became very clear. I was there to work on my idea and shape it into a new business. So, this is what I did. Every day. I talked to advisors, I applied to business incubators. I wrote slides. I did research. I celebrated my wins and I went through inevitable days of procrastination.
And on one such day, I saw this sign straight across my breakfast table at Holistika, a hotel in the middle of the jungle that offered an amazing outdoor working space.
It's time to start dreaming again, it said. And I got it. I was not there to force a business out of an idea. I was there to dream it into being.
Dreaming the word into being is a concept held dear by the Q'ero shamans from Peru. They recognise that when you're in the flow you don't need to force anything, you simply manifest what is ready to come into this world. And when you connect to your passion, to what you truly believe in, the process is effortless.
So, I dreamed this idea into being. Day by day and place by place. I dreamed it on the beach, I walked it in the jungle. I bathed it in the ocean, dried it in the sun. And every time I opened my computer a little bit more of it took shape.
We stayed in Tulum for 3 weeks and a half. And during this time, my idea came into being.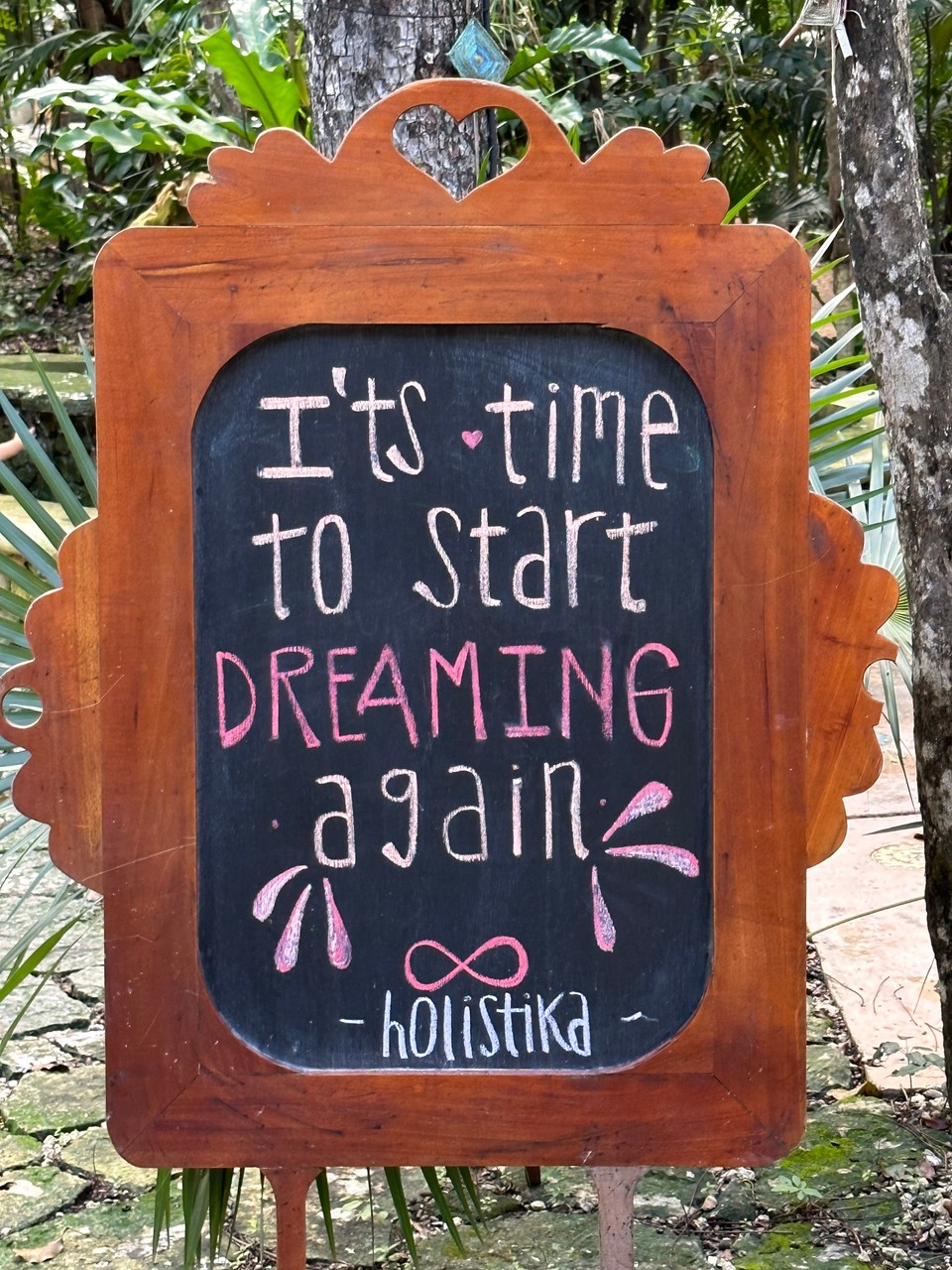 November 2022 - Bacalar Laguna, Mexico
Today is about the light and the shadow.
Because you see, there's no light without shadow. And no shadow without light. Together they create pictures of immense beauty - like the picture of this sunrise in Bacalar, a laguna on the Mayan coast of Mexico.
We usually like the light. And we reject the shadow. We pretend it's not there. We bury it. We deny it. All these aspects of ourselves that we don't want to face: the ugly, the scary, the bad. The stuff that we would rather hide. We push it away, disown it and pretend it doesn't exist. Sometimes, we even project it onto others.
But guess what? Whatever you hide will come back to haunt you. It will try to sabotage you from realising your dreams. It will show up when you least expect it. It will create drama. It will try to destroy things. It will tell you that you're not good enough, that you don't deserve and that whatever you're wishing for wasn't real in the first place. It will try all its tricks to make you stay small. So that it can still live in there, deeply buried in your unconsciousness.
And the brighter the light, the darker the shadow. The closer you are to realising a big dream, the more unconscious resistance will pop up.
My shadow caught up with me in Bacalar. In the morning I witnessed this beautiful sunrise, the most beautiful one I have ever seen. Afterwards, I worked all day on my idea. And then the hell broke loose.
In a matter of a few hours, I felt I lost it all. Not only my willingness to pursue the idea but also my relationship with the man I love, my direction in life and even my health.
It matters less what happened as the things that happen in these circumstances are usually of the realm of drama. It matters more that I managed to recognise it as shadow. It wasn't easy. It took a few days. The worst days I had been through in a while.
But it was worth it. Because when you stay with your shadow and don't try to push it away or pretend it's not there, something magic starts to happen.
The light comes back.
And with it, my idea returned.
It was the end of November In Bacalar laguna, Mexico, and I had survived the attack of the shadow.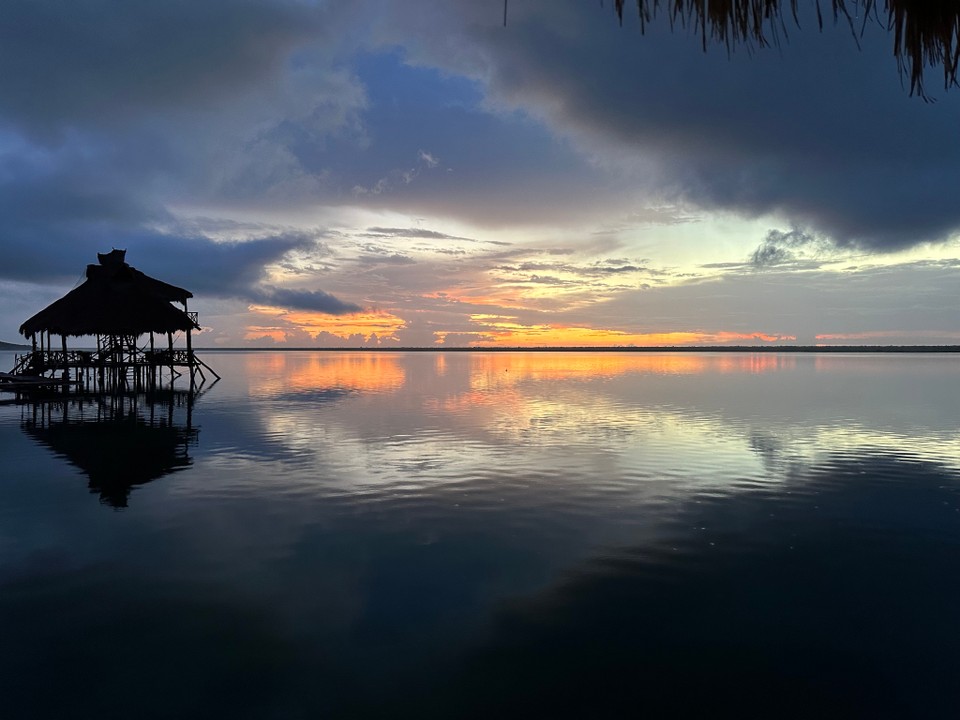 December 2022 - Casa del Mundo, Lake Atitlan, Guatemala
Today is about going on a pilgrimage.
We left Tulum and dreamed about going home. But our journey in South America had one more stop: Guatemala. We weren't convinced we really wanted to go there. We only had 4 days and the journey to Lake Atitlan and back would take half the time.
With a heavy heart and heads full of doubts we queued for check-in at Cancun airport.
And then Michael suddenly said: "When a man and a woman decide to go on a pilgrimage who can truly stop them?"
I wasn't aware I was going on a pilgrimage, I said. Neither was he, he answered. The thought came suddenly, clearly and like all true insights, out of nowhere. And it somehow made sense.
So we went. It took a day to get there travelling by plane, by car and by boat. A day of talking about missing home, a day of doubts and wondering if we had made the right choice.
And then we found the answer: Casa del Mundo, the beautiful lodge on Lake Atitlan was home. It was the home we were craving. Just another type of home. A home away from home. And that magical lake surrounded by volcanoes whispered to us stories about rebirth and our true nature, about fragments of our souls that lay dormant on the bottom of that lake waiting to be retrieved. Inspiration flooded like nowhere else. Things all of a sudden started to make sense, new insights appeared out of nowhere and at the end of those 2 days we felt like we had lived a whole year.
And we left carrying all those treasures with us.
Because when you go on a pilgrimage led by your soul, you come back bearing gifts of grace.
Lake Atitlan December 2022. My idea had started walking in the world.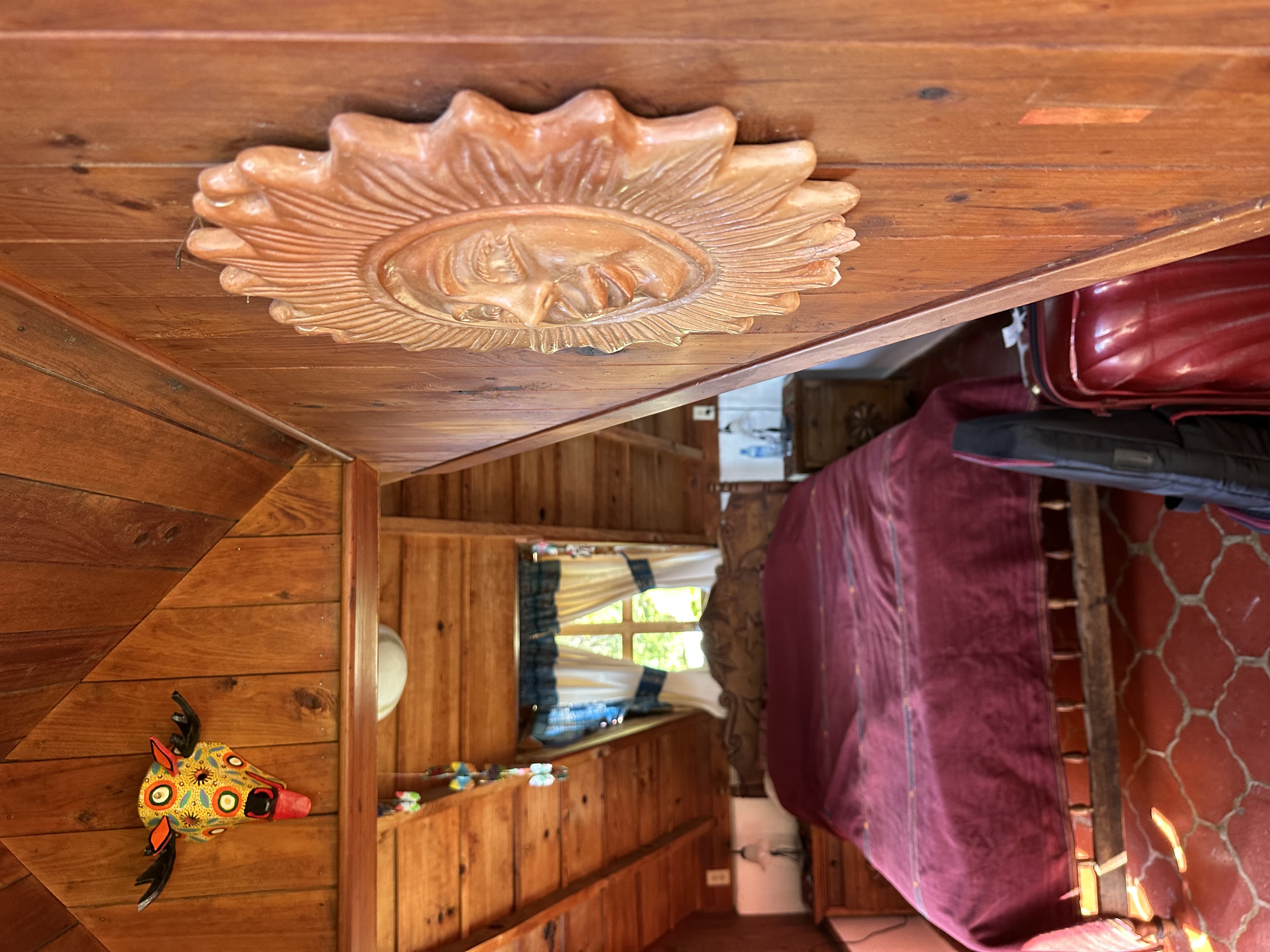 December 2022 - London, UK
Today is about having fun.
Life is made of moments. Some count and some don't. Some we remember vividly as if they had just happened. Others we forget immediately. Some we love. Others we dread. The trick to having a happy life is to fill it with happy moments.
One thing that I really love about my family is how much fun we're having together. And a trip to Winter Wonderland in London in December is one of our best traditions.
I had lived in London for 13 years when I decided to move to Mallorca. I thought I was done with this busy, crazy city. But London was not done with me. It called me back and now I live between Mallorca and London and both places feel like home.
And being with Michael and Lucy feels like home too, in a much deeper way.
Creating a new life in the middle years of one's life is not easy. But we have done it. And I'm grateful for every moment that we spend together, the three of us. For the fun that we have. For the growth that we experience. For the crazy ideas. For riding carousels. For our travels. For our jokes. And for the commitment we all made to become a family.
Winter Wonderland London December 2022. My idea was resting as I was having fun.
December 2022 - Maldives
Today is about following your path.
What do you do when you don't know what your path looks like? You take the first step. And then the next. And then the third step will show up.
After London, we went to the Maldives. It was a family holiday and we were looking forward to welcoming the new year on the beach together. We thought it was going to be amazing.
And it was. But something else happened and that was magic: we discovered the path of stars.
We were walking by the beach one night and we suddenly saw what looked like a galaxy full of stars. It was the fluorescent plankton, lighting up the water with every movement. It came on the sand too brought by the waves. It stuck to our soles and as we walked, we created a path full of stars.
And this is when I knew that I was walking my true path, my path was full of stars. And my idea was walking its own path, beside me and it was going to be full of magic too.
December 2022 one night on the beach, Maldives
January 2023 - Kerala, India
Today is about non-doing.
After many months of non-stop doing, I went the opposite way. I went into non-doing.
At the end of our Maldivian holiday, Michael and Lucy flew back to England and I went to India. Solo. I checked in an Ayurveda sanatorium and stayed there for a month.
Was I ill? No. Did I have a specific reason to do this? Several but nothing that would justify taking a whole month off to focus on rest, recuperation, Ayurvedic treatments and doing nothing.
Why did I do it? Because several years ago, this land, Kerala, introduced me to the concept of wellness. Looking after your body before you are forced to. Caring for yourself without a reason. Preventing rather than treating. Ever since that first time in 2017, these concepts stuck with me and changed my life. I now think in terms of wellness not resolving symptoms.
I now know that the best way to treat a disease is before it happens.
I know that non-doing is at times the best form of doing.
And I also know that the best way to sustain an intense rhythm of work is by absorbing a period of deep rest and recharge.
And one day, unexpectedly, my peaceful ayurveda sanatorium was invaded by Indian dancers. Get ready to come back, the dance whispered. Get ready to juggle a million things and try to look graceful in the process.
Just what an entrepreneur is doing.
Kerala, India January 2023. An Indian traditional dancer showed me what happens after you dream an idea into being. You dance it into the world. And the Indian gods looked like they would support it.
February 2023 - Italy
Today is about taking risks.
It's about perseverance too but for me, this comes after the willingness to take risks. Why? Because when you're willing to take risks sometimes things don't go as planned. You suffer setbacks. And then you have to call in your faith, perseverance and all your resources to go on.
I came back from India. My idea grew into a startup. It had an advisory board, a team, suppliers and potential customers. I signed contracts, onboarded collaborators, interviewed customers and started my entrepreneurial dance.
And then I decided to go to Italy, skiing for a long weekend.
Why? Because sometimes things happen in a way that escapes our logical mind. Yes, I was busy with a million things. And yes, this trip seemed important.
And then the setback happened. An airport covered in fog, a flight delayed. A connection missed. A night spent unexpectedly in a hotel in Barcelona. A mad scramble to try and find another flight. A missed car ride. An unplanned train journey. And a million thoughts about quitting this apparently bad idea.
Why did I not give up? Because some things are worth it. And your 8-year-old niece saying 'please come' is one of those things. I took a chance. I found another flight, then a train. I made it. The kids got to unpack their gifts. And after more than 10 years, my cousin and I skied together again.
And my idea? Well, it was smiling at me. Are you going to quit when it gets tough? it wondered.
No, I'm not, I answered.
Because some things are just worth it. And this idea is one of them.
Italy, February 2023. My idea put my perseverance on trial.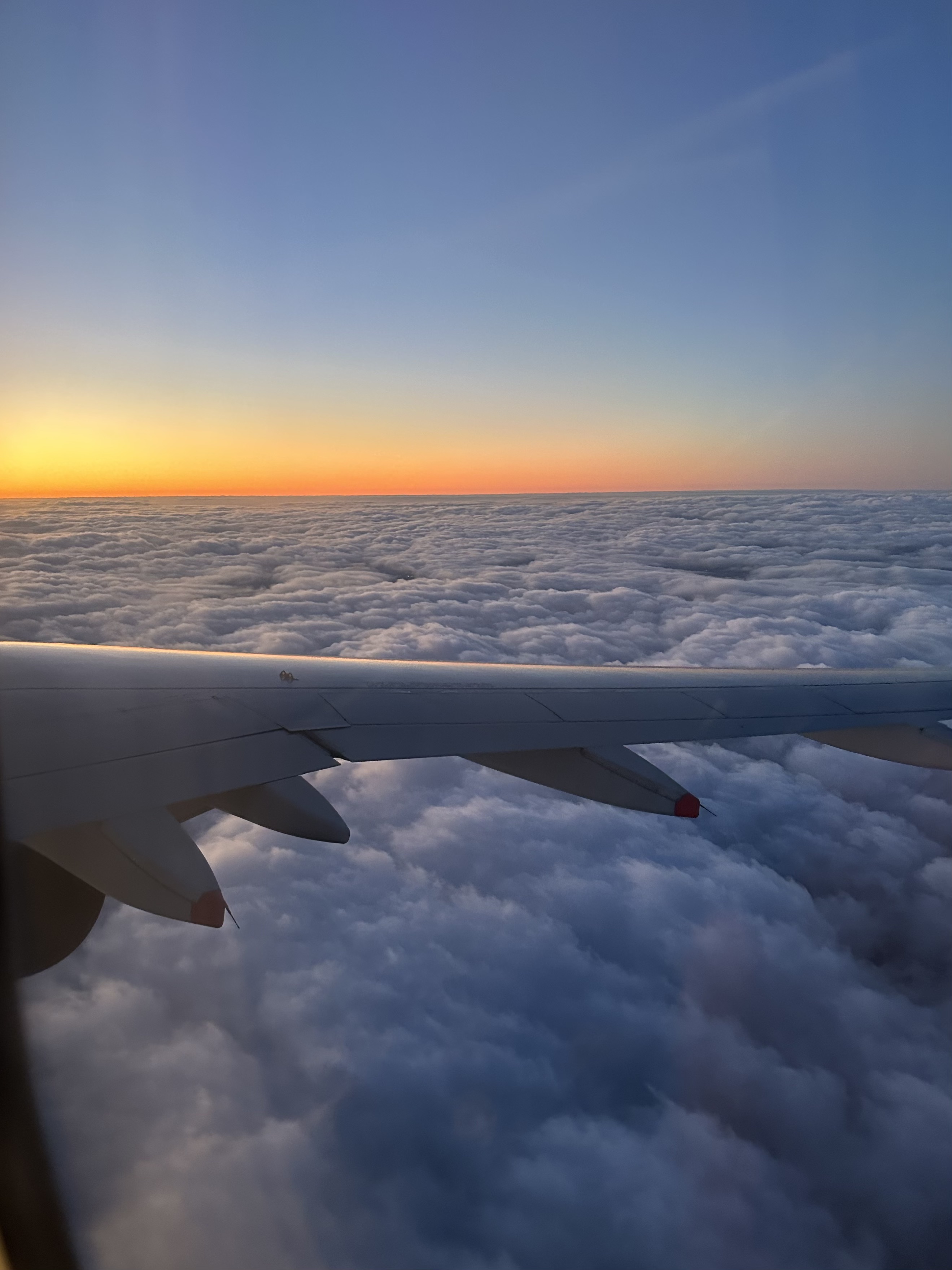 March 2023 - London, UK
Today is about gratitude.
For the ups and downs of these last months.
For the idea that came knocking at my door and choose me as its steward.
For the beauty of nature that sustained me across 3 continents.
For the support and love of my husband, my foremost champion.
For the hard work and support of my team and advisors.
For all those of you who believed in this idea and supported me to put it into practice.
Gratitude is where everything begins, and it all ends.
Today this mini travel journal comes to an end. Something else begins. The idea.
This picture is taken on the beach of dreams, in Tulum. A part of my soul will always be there. But I'm back in London now. It is time.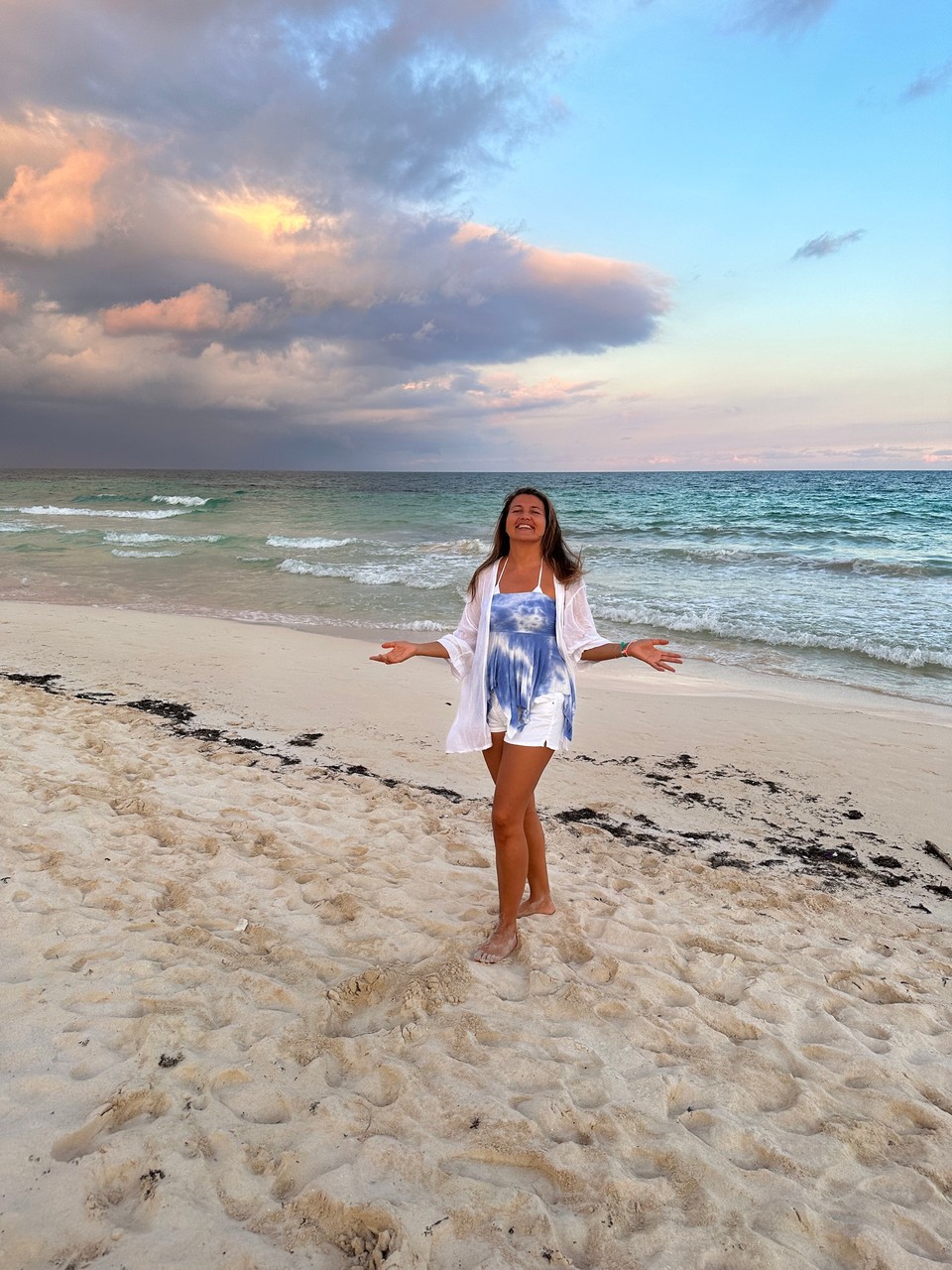 Epilogue:
This is where my journey ends and the idea steps into the world, starting its own journey.
Today is about the idea.
I dreamed of a place where people can find real healing.
I dreamed of a world where everyone lives the life that they dream of.
I dreamed of a way to bring together the different parts of me - the healer, the entrepreneur, the traveller, the writer and the dreamer.
I travelled the world and met amazing indigenous healers. I always felt the urge to know more and I experimented with advanced healing modalities. And I always looked to bridge the gap between business and healing.
Today it all melts into one:
The HEAL Institute
The place where the Past and the Future come together to heal the Now.
It is born.
Come visit us and get 1 month free membership when you register to the newsletter!
Stay connected with news and updates!
Join our mailing list to receive the latest news and updates.


We hate SPAM. We will never sell your information, for any reason.